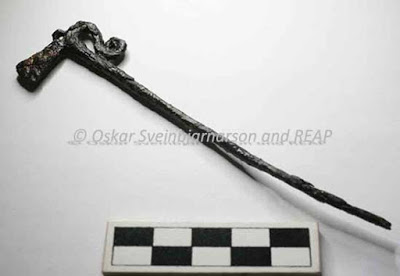 This axe head pin was excavated from the 'Craw Stane' site in 2013 and was one of the first exciting archaeological finds from this site giving a clear indication of the site's importance. It is also reminiscent of the axe that Rhynie Man carries and was found just a few metres from where that pictish symbol stone was unearthed in 1978.
"We have had the unique axe-pin conserved and the pin looks even more amazing than before – and best of all the suspicions about an animal on the butt-end of it (so many would not believe what we saw!) is completely confirmed.".. Oskar Sveinujarnason (Archaeologist- REAP)
The animal mentioned by Oskar is a serpent with its mouth biting the axe head and it's tail coiling at the stem. What is intriguing about this pin is that it is made of iron. The iron has been forged, not moulded, so the level of craftsmanship on this intricate piece is very high.
"The pin was found in the upper levels of burnt material around the palisade and post settings (outermost enclosure) in 2012.  It is a very rare example of a well-preserved iron pin."
Date of Discovery:
23/06/2013
Location of Discovery:
Axe Pin
The Shieling, Manse Rd, Rhynie, Huntly AB54 4WA, UK
Found here